Triple Jump is a checkers (draughts) playing program. It was a project created during my 3rd year Artificial Intelligence course (COMP 3613) at Acadia University. The project was not required for the course, but the course raised my interest in Artificially Intelligent programs. So, I decided to implement one on my own. The project was completed in 2 weeks.

The name Triple Jump was chosen after the program was tested for the first time. This consisted of about 10 games against people on my floor. These games were played before any positional evaluation was programmed. The program was playing purely on tactics and no clue of where to place its checkers to higher its chances of winning - it was moving blindly. Only when human error introduced positions where it could benefit from tactical play within the scope of its search could it play anything meaningful. Needless to say, the program made short work of these opponents achieving a triple jump in every game, and finishing them off before even reaching the end game. It is very good at finding shots - where you give up pieces, but force a position to occur where you can gain back what you lost plus more. Once this happens, you will be down at least a piece, and should ultimately lose the game (with perfect play).

The program's main weakness is from lack of transpositional tables (repetition of a position in the search tree), and I will rewrite the program from scratch once I have time to implement this. The program suffers enormously from this for several different reasons. Notably, without these tables:


Triple Jump does not realize a repetition of position is a draw. Although there is no rule in checkers (unlike chess) that states a repeated position x number of times is a draw (3 for chess), the computer should understand that if the game position repeats, nothing is being accomplished for either side, and is thus a draw. There is no purpose to reevaluate such positions over and over again, especially within the same search tree, such as where both players just keep moving a king back and forth.
Triple Jump does not realize that a potential outcome of a position it is searching may have already been analyzed through a different sequence of moves. For example, move a checker to the left, then to the right. Now reset the board, and move that checker to the right first, and then to the left. You have arrived at the same position. Without these tables, Triple Jump will analyze this same position twice. This will happen at every level of the search causing re-searches of the same position numerous times. This is a consequence of the above point, but you should note that these identical board positions can happen during 'normal moves' of the game, not just 'stupid' moves like moving a king back and forth.
Another consequence of the above point is during end game play. For example, in a 2 King vs. 1 King ending, which is an easy win, Triple Jump requires at least a 15-ply search to solve this - and that's when the 2 Kings already have the 1 King trapped in the double corner. 15-ply is far out of reach for Triple Jump - and therefore you can easily draw against it if you are down 1 King to 2. However, with these tables, every possible position of a 2 King vs. 1 King ending (a little over 200,000 positions) could be evaluated for a win, loss or draw in under 2 seconds (remember that with the tables, no position needs to be evaluated twice), stored in the table, and properly retrieved to allow Triple Jump to solve the win, regardless of piece placement.
Triple Jump has no idea which moves were evaluated to be the best moves at a shallow search depth, so that they can be research first for the next deeper search, and thus help the program to disregard the bad moves more quickly. Therefore it will research all the moves at the larger depth by blindly searching whichever moves it finds first. Why does this matter? With these tables, Triple Jump could search the principle variation (the best line of play) first, and using the Alpha-Beta Heuristic (which it has been programmed with), cut off more sections of the search tree. These cut-offs, if performed optimally (which never happens, but can be approached), can reduce the number of nodes (positions) searched by the square root of the original number. That means if it took 1,000,000 positions without it, it would only take 1,000 with it running optimally. This means instead of my program searching only to 7 - 8 ply in a 1 second / move game, it would search exactly twice as far, from 14 - 16 ply, given the same amount of time!
It also suffers from the lack of an end game database, and therefore plays the endgame poorly. Regardless, you have to be a very good checkers player to beat Triple Jump - you will only notice it's weak endgame play if you can reach the endgame. And even then, you cannot play carelessly - Triple Jump was once down 3 pieces to 4 against an experienced player, and it sacrificed a piece to set up a position in which it quadruple jumped all of the opponent's remaining pieces. Obviously embarrassed, the opponent left without saying a word - I would expect that this was probably the only game ever in which an experienced player suffered a quadruple jump to lose the game. This is just an indication that you cannot start to play carelessly at any point during a game, or you will probably lose.
Screen Shots of Amazing Wins: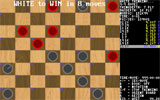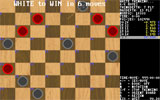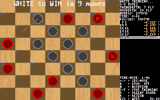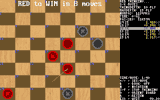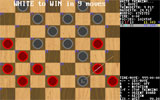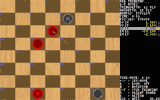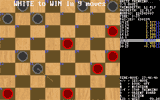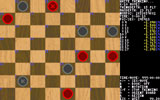 Some of the above pictures show amazing wins that Triple Jump solves. And you thought that checkers was a kids game... To announce a forced win, Triple Jump must analyze every possible outcome of the current position, all the way to the end of the game - where one side has either lost all his pieces, or rendered them immobile. For example, Triple Jump must see 17 moves ahead to announce a "White to Win in 9" - 9 moves for white, and 8 response moves for red.

In the first picture above, Triple Jump plays the most amazing win I have ever seen against an expert human player. Although Triple Jump is up by 2 pieces, and is going to win easily, it announces a White to Win in 8 moves in under a second in the position seen. Can you see the forced win? I could not see it until the very end of it's 8 move winning strategy. White sacrifices 6 pieces to force Red into a loss. The winning line of play is in the following table:
Triple Jump's Craziest Win in a real game
White (Grey)

Black (Red)

21-17, White to Win in 8, sacrifices a piece
3-8, sacrifices a second piece
18-15, sacrifices a third piece
23x14x7, double jump to sacrifice a fourth piece
19-15, sacrifices a fifth piece
27-24, sacrifices a sixth piece!
32x23x14x5, triple jump!
29x22, jumps last piece, White Wins
14x21, forced jump
4x11, forced jump
11x18, forced jump
2x11, forced jump
11x18, forced jump
20x27, forced jump
21-25, only move

In the third picture above, Triple Jump solves an amazing position composed by D. Oldbury as a win for white in seconds. In case you are curious, best play for both sides is shown in the following table: Try it, and see!

Derek Oldbury's Amazing Example Position
White (Grey)

Black (Red)

27-24, White to win in 8 moves
14-9
15-11
11-7
18-4-2, double jump
23-14
19-16
2-6
6-15-24-31-22-13, White wins with a quintuple jump!
20-27
7-14
1-10
13-6
15-18
10-17
12-19, or 3-10
3-10, or 12-19

In the sixth picture above, Triple Jump is about to play 10-15, which appears to be an error! The move allows white's king to split the advancing pieces (by playing 7-10), something a complete beginner can see. White will win one of the two checkers in it's next move. Why would Triple Jump make such an error? It has not made an error - Triple Jump has just played a trap. Would you have fallen into it? If white falls for it by playing 7-10, red wins in five moves. Can you see the win? (Hint: first move to lead to win is 14-18 or 15-18)

Remember, the official rules for Checkers is that you must jump, if you can. This adds a lot of strategy to the game. It is, by no means, only a kids game.

I have a new found respect for checkers, now that I have played my computer program. The game is best described in this quote, from Marion Tinsley: "Playing chess is like looking out over a limitless ocean; playing checkers is like looking into a bottomless well." The quote is fairly accurate, as anyone can see that an ocean is limitless, however, it takes a greater amount of inspection to notice that a well is bottomless. Marion Tinsley was the World Checkers Champion for 45 years, losing only 5 games, of the thousands that he played, to only 3 individuals. This near perfection has been unmatched by any individual, in any other sport, ever. As quoted from the American Chess Journal, "To get an idea of the embarrassingly wide margin by which Tinsley surpasses his nearest competition, consider his defense of the world title in 1989 against the challenger Paul Davis. Tinsley drew 23 games, won 9, and lost 0."

Download: Triple Jump v0.30 (212KB)
The program should run on a 386+ processor. I know the user interface is not the greatest in this program, and I apologize for this.